null
LÍNEA DIRECTA IS TO REDUCE THE PRICE OF INSURANCE FOR CUSTOMERS WITH 15 POINTS ON THEIR LICENCE BY UP TO €100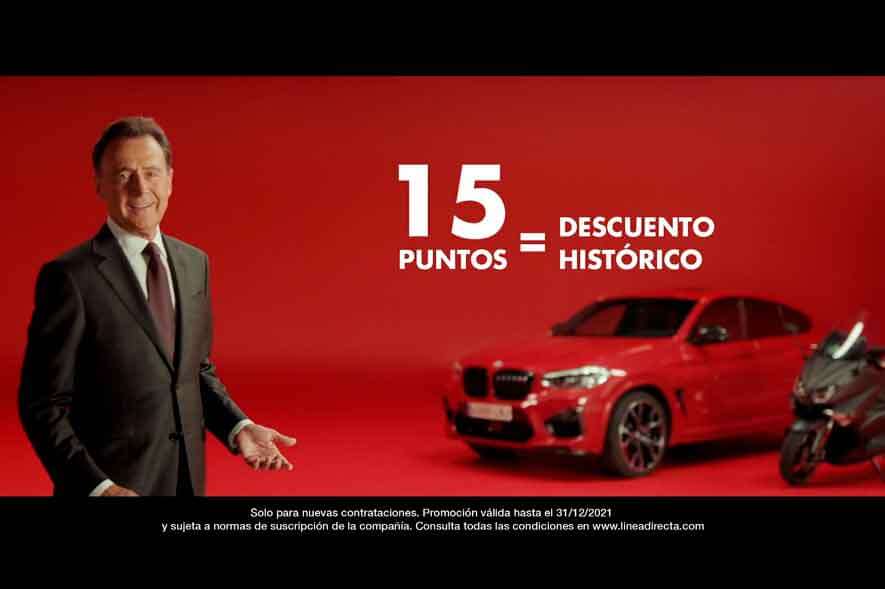 01/07/2021
Línea Directa is to reduce the price of insurance for customers with 15 points on their licence by up to €100
Línea Directa has resumed its iconic 15-points advertising campaign, unique in the Spanish market, with which it rewards good drivers. New customers with the maximum points on their driving licence will pay up to 100 euros less to renew their car and motorcycle insurance.
This new promotion strengthens the commercial position of the insurer, which has an extremely competitive market offer to attract new customers, always guaranteeing them the best price.
The well-known journalist Matías Prats, who has been the brand advocate for nine years, stars in the six ads in this new Línea Directa campaign.

Madrid, 1 July 2021.- After offering policyholders the greatest assistance in its history with the "A real guarantee that you will pay less" campaign, Línea Directa Aseguradora is launching another promotion focused on guaranteeing the best price to the best drivers. The company will reduce the price of renewal by up to 100 euros for customers with 15 points on their licence and who have not been guilty parties in the last five years who switch to Línea Directa. This commercial offer applies to both car and motorcycle insurance.
In this way, Línea Directa Aseguradora is resuming its renowned campaign for drivers who retain all the points on their licence, the only one of its kind in the Spanish market and which it first launched in 2013. This means the company is ensuring that the lower accident rate associated with the most careful drivers is reflected in the amount these customers pay for their policies. This is in keeping with the company's prudent and personalised underwriting policy and also fosters road safety.
The six adverts that have been airing on television since Sunday 27 June once again feature the well-known journalist Matías Prats. "If you have 15 points, why aren't you with Línea Directa? Switch and we will reduce the amount you're paying for your car or motorcycle insurance by up to 100 euros", says the brand advocate for Línea Directa in these ads. "Just to let you know that I have 15 points and I pay less than you", add the customers who also feature in the adverts good-naturedly.
According to Mar Garre, Head of People, Communication and Sustainability at Línea Directa Aseguradora, "this campaign strengthens our position as the benchmark insurer in the Spanish market in terms of value for money and with it we are continuing to recognise the conduct of good drivers by applying significant discounts on their policies".
You can view one of the ads in the new campaign on the YouTube channel of Línea Directa Aseguradora.